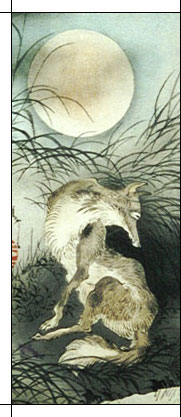 The only role the kumiho—the nine-tailed fox—plays in Korea is the demoness. Whether she appears as maiden, wife, or succubus, the kumiho's sole goals are power and death. She is the only kind of fox that kills with her own hands, and also the only kind of fox that eats her prey.
---
Articles
Fenkl, Heinz Insu, "Fox Wives and Other Dangerous Women".
La Shure, Charles, "Kumiho". In Encyclopedia Mythica.
Mayer, Frederick J., "The Tales of KuMiHo". In Lair of the Shebitch.
A thorough discussion of the kumiho, with considerable detail and references to Korean stories.
---
Folktales
"The Fox Sister". In Meta English.
"The Salt Peddler and the White Fox". On The Kitsune Page.
Zong In-Sob. Folk Tales from Korea. Elizabeth, NJ: Hollym International. 1982. [find it]
---
Movies
A 1994 film about a kumiho who must have sex with human men in order to become human herself. Directed by Park Heon-Su.
Mist (formerly Kumiho)
A horror movie by Young Man Kang. The details of this movie are so vague that I can't even tell if it's finished, and Kang's own web page doesn't go into any detail.