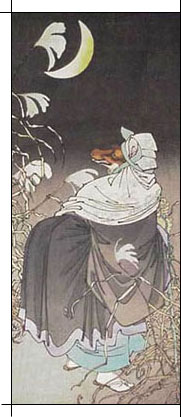 Japanese Fox Stories
Come and Sleep (and On a Contest Between Women of Extraordinary Strength)
The very first fox story in Japan, and the model for every fox-wife story that came after it.
Tales of Old Japan, by Algernon Bertram Freeman-Mitford [find it]
The Foxes' Wedding (illustrated)
How a Man Was Bewitched and Had His Head Shaved by the Foxes
The Grateful Foxes
Glimpses of Unfamiliar Japan, by Lafcadio Hearn [find it]
The chapter on kitsune from Lafcadio Hearn's classic of Japanese travel.
Visu the Woodsman and the Old Priest
How Tokutaro Was Deluded by Foxes
The Fox and the Tanuki
The Death Stone (i.e., Tamamo-no-Mae)
Inari Answers a Woman's Prayer
Kitsune: Japan's Fox of Mystery, Romance & Humor
A PDF copy of a rare and out-of-print book on kitsune by a Japanese scholar.

Enough is Enough!
Fox Arson
The Fox in the Brothel
Foxtrot's Collection of Kitsune Lore
Short Kitsune Stories
Fables in Ivory
---
Where else can I find Japanese fox tales?
Hearn, Lafcadio. Glimpses of Unfamiliar Japan. Boston: Tuttle Publishing. 1997. [find it]
Kusano Eisaburo. Weird Tales of Old Japan. Tokyo: Tokyo News Service, 1953. [find it]
Mayer, Fanny Hagin. (translator and ed.). The Yanagita Kunio Guide to the Japanese Folk Tale. Bloomington: Indiana University Press. 1948. [find it]
Mayer, Fanny Hagin. (translator) Ancient Tales in Modern Japan: An Anthology of Japanese Folk Tales. Bloomington: Indiana University Press. 1984. [find it]
Mitford, A.B. Tales of Old Japan. Rutland, VT: Tuttle, 1977. [find it]
Nakamura, Kyoko Motomochi. Miraculous Stories from the Japanese Buddhist Tradition: The Nihon Ryouiki of the Monk Kyoukai. Cambridge, MA: Harvard University Press, 1973. [find it]
Come and Sleep (and On a Contest Between Women of Extraordinary Strength)
Nozaki, Kiyoshi. Kitsune: Japan's Fox of Mystery, Romance & Humor. The Hokuseido Press, 1961. [Read it online]
That rarest of rare things, a book of Japanese folklore written by an actual Japanese scholar, and not a Western Nihonophile. Unfortunately, because of this, Kitsune is hampered by an extraordinarily awkward and sometimes outright bad translation, which makes the writing mawkish and clunky. Nozaki also comes to a number of unorthodox conclusions (such as that sex with a fox always hurts) and doesn't make a clear distinction between mainstream Japanese beliefs and beliefs that appear in a single source (such as the idea that foxes create will o' the wisps with their breath rather than with their tails). Still, Kitsune is the collection of Japanese fox tales.
Tyler, Royall. (ed. and trans.) Japanese Tales. New York: Pantheon. 1987. [find it]
Foxes I #80-84; Foxes II #205-209; 124-125. Also, a large chunk of this book is online at Amazon.com.
Ury, Marian. Tales of Times Now Past: Sixty-two Stories from a Medieval Japanese Collection. Berkeley: University of California Press. 1979. [find it]
---
Foxes in Kabuki Plays
Kakuzo, Okakura. The White Fox.
An English version of the story of Kuzunoha, as written by a Japanese poet for the Isabella Stewart Gardner Museum in 1913. The story is different from the standard telling in that the fox takes the place of the real Kuzunoha in order to outwit Kuzunoha's enemies and then take Kuzunoha's husband.
Nasuno, by Yamada Kengyo
A retelling of the story of the Killing Stone, composed as a song for the koto. This version of Tamamo no Mae's story connects Tamamo no Mae with the legendary Chinese dragon-queen Pao Sze, who toppled King Yu Wang of Chou in 771 BCE.
Several translations and a detailed discussion of Basho Matsuo's late 17th-century poem "Narrow Road to the Deep North," a travel diary in which he visited the famous Killing Stone where Tamamo no Mae was trapped.

Foxes in Noh Plays
Sesshouseki ("The Killing Stone")
A retelling of "Tamamonomae." Translated in Basil Hall Chamberlin, The Classical Poetry of Japan (London: Trubner,1880), "The Death-Stone" (Sesshouseki).